Culturally Safe Community Mental Health Supports:
A Pilot Project in Partnership with the Saskatchewan Health Authority
The Aboriginal Friendship Centres of Saskatchewan (AFCS) in partnership with the Saskatchewan Health Authority (SHA) First Nations and Metis Health Services are excited to announce the creation of a one-year pilot program to increase community based mental health supports.


This innovative partnership will create an embedded mental health position within each participating Friendship Centre. This position will be available to support staff, clients, and community members in the Friendship Centre through an SHA mental health professional. Since the staff member will remain an SHA employee, they will have full access to all the healthcare authority resources including providing referrals and opening the door to other healthcare needs for clients.
Mental health has frequently been identified as a recurring need in all the communities where the Friendship Centres reside in Saskatchewan. 80% of Friendship Centres identified mental health support as a need more that once across various engagement sessions. With all the Centres identifying it at least once.
The COVID-19 pandemic over the past 2 years has further highlighted the increased need for accessible mental health supports for both Friendship Centre staff and clients. The uncertainty and additional challenges of the pandemic are taking a toll on the resiliency, mental health, and wellbeing of people. Addressing these concerns needs to be a top priority. Mental health supports for staff, their families, and community are necessary.
However, under the traditional core funding guidelines, delivering this type of programming is difficult for individual Friendship Centres due to the limits on allowable expenses. The supports available through the Saskatchewan Health Authority (SHA) are often limited due to lack of staffing, challenging locations, and cultural safety.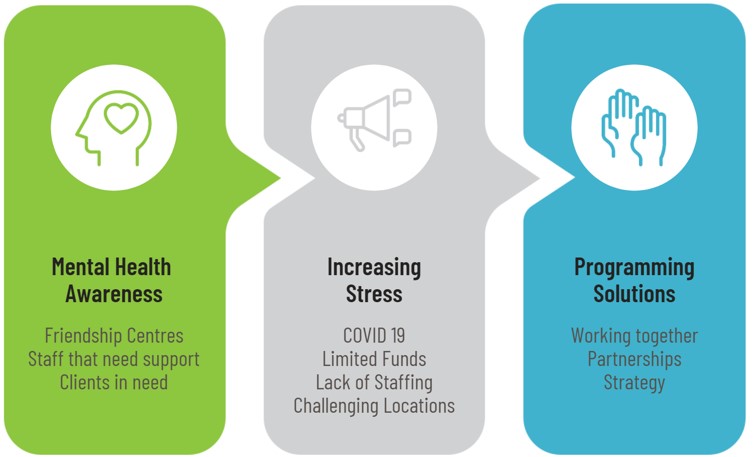 This partnership is viewed as a necessary step towards providing accessible, culturally relevant mental health support to Indigenous communities. By being able to provide the service within the Friendship Centre and not a traditional health care facility, the support is offered in a culturally safe space for Indigenous peoples. It will also reduce jurisdictional barriers as Friendship Centres operate under a status-blind policy which means anyone regardless of Status can make use of the service.
Janet Carrier, the Executive Director of the Prince Albert Indian and Metis Friendship Centre and the President of AFCS, sees the program as integral to "providing help within the community to create the change for Indigenous people."
The SHA staff will begin working in the Friendship Centres as early as December 2022. Funding has been committed for a one-year duration during which the success of the program will be evaluated. After the initial pilot project, the goal is to secure sustainable funding to continue and grow the project to include additional communities in Saskatchewan.
For more information about this exciting new initiative, contact: