Happy Holiday's
Our Friendship Centres across Saskatchewan are celebrating the Holiday's by providing their communities with a remarkable amount of Christmas hampers, children's gifts, and also whole turkeys!
Some of our friends such as Leonard Montgrand at La Loche Friendship Centre say that in partnership with Métis Nation Saskatchewan, they were able to offer 422 family food Visa's worth $100! Such a great contribution to families in the local community… and Jackie Kennedy in North Battleford, at the Battleford Indian & Métis Friendship Centre, had to say:
Ron Woytowich, the Executive Director of Kikinahk Friendship Centre in La Ronge, exclaimed that Kikinahk distributed 240 hampers to very thankful people. At the North West Friendship Centre in Meadow Lake, Gladys Joseph said they gave out 50 hampers to families and also seniors.
Raymond Laliberte, the Executive Director of Saskatoon Indian & Métis Friendship Centre had to say:
Adding to that, Jennifer Whitecap in Saskatoon says, "on top of the Christmas hampers, we've handed out well over 1000 hampers for COVID Relief."
In the news, the Battlefords Friendship Centre is recognized.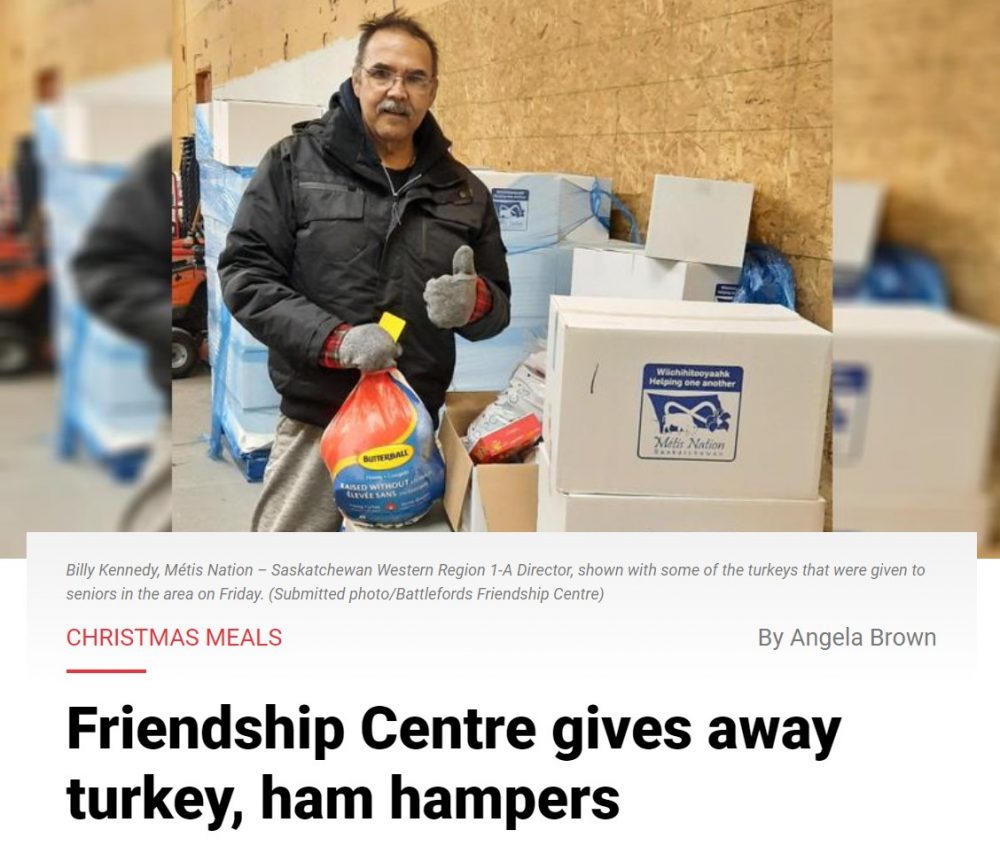 Read the full article: Friendship Centre gives away turkey, ham hampers
"We partnered up with [Métis Nation – Saskatchewan] Western Region 1A, our local Métis society here, and we gave 75 seniors' hampers out. That was turkey, potatoes, gravy, everything," Kennedy said. "Then, the Friendship Centre gave out 100 turkeys and hams, and pies also to people."

In more news: Prince Albert's Indian Metis Friendship Centre (IMFC), in partnership with the Northern Lights Casino, is helping to spread some Christmas cheer. Read the full article here: Here comes Santa Claus